Warm weather boating season is here, and it's time to enjoy some scenic sights with your pet by your side!
Whether you're an experienced Sea Chaser lifestylist or just getting started, having pets on board can make the ride more memorable; however, certain precautions should be taken when embarking on a boating adventure with your furry friends. To ensure everyone involved has a safe and enjoyable experience, check out these helpful tips for boating with pets.
Safety First
Contrary to popular belief, not all canine companions are natural swimmers, and in fact, some might just prefer just to dip their paws. Age, health, and even the fickleness of water and weather can make swimming quite the doggie dare. Pet life jackets are here to save the dog days of summer! These great flotation devices will keep your pet afloat and act as a trusty rescue device should your dog take an unplanned plunge. 
Safety never goes out of style when choosing the right life jacket for your pet! Make sure you look for a life jacket with a secure yet comfortable fit with handles and eye-catching colors. Assess the fitting to ensure it snugly embraces your pet. Lifting handles are a great addition to help in case of emergency. Check the placement of straps and buckles to make sure your pup will be comfy, and don't forget about selecting a vibrant color of a jacket to make them easily identifiable in the water.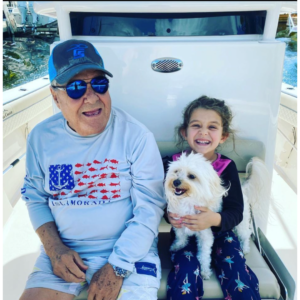 Be Patient
Slowly immerse your pup in boat life. Start by heading to the marina, lake, river, or wherever you adventure, so they can get used to the sights and sounds of the boat. Then ease them onboard safely. Bring their treats, toys, and other comforting materials to make them feel secure on your Sea Chaser. 
Go at their pace. Depending on your doggo, this step could take very little or a long time. Be sure to be mindful of signs of puppy anxiety too. Warning signs include:
extreme panting and yawning

licking

stiffness/stillness of the body

refusing to get near the boat
Keeping your pup calm and safe is priority number one; adventure time will follow.
Keep Your Pup Hydrated
Being out on the water and in the sun all day will make just about anyone in need of a little H2O. So pack an extra cooler for Spot! Because just like your human first mate, you must also keep your pup hydrated. Bring a collapsable water and food bowl aboard, as well as some dog food in case of an all-day excursion.
Beat The Heat & Stay In The Shade
Protect your pup from the sun! Just like dehydration, your pet is also susceptible to heat exhaustion. Symptoms to be aware of include: excessive panting and drooling, dehydration, high pulse, fever, muscle tremors, minimal urine when relieving themselves, labored breathing, and discolored gums. 
So be sure to keep your dog in a shady area onboard. If they're a sunbather, you can also keep them safe from the sun by picking up some doggy sun tan lotion.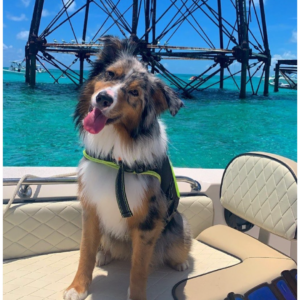 Wrapping Up…
Last but not least, take a ton of pictures of your pet onboard. This isn't a safety requirement, but it will be the perfect way to capture the memory of boating with your pets. Also, we pawsitively love seeing your adventures, so don't forget to tag us on Instagram and Facebook too. 😉
Sea Chaser vessels are versatile big water boats that'll take you to where the prize fighters and game fish are. Year after model year, we deliver boating enthusiasts maximum performance, confidence, and comfort with class. We offer the perfect boat at the perfect price. If you are seeking a new standard in performance, find a Sea Chaser dealer near you today.