Quality time is important to Leah Rassi, and she absolutely loves spending time on the water with family and friends. Leah and her husband Gatlin live in the picturesque Destin, Florida area near her parents Tammy and Jeff, and the four spend a great deal of time together. Together they own a Sea Chaser 24 HFC that features prominently in their family fun most weekends.
Leah and her husband are expecting their first child, a boy, due in August.  The couple also has a Goldendoodle dog named Frank, and her parents own Frank's sister, Stella. Leah said her perfect weekend includes time on the water with her husband, parents and the dogs. Leah, Gatlin, Tammy and Jeff all used to live in Indiana, but when Tammy and Jeff moved to Florida eight years ago, Leah and Gatlin soon followed.  Tammy loves fishing and the group loves to spend time on the water together.
We talked to Leah about her family, their boat, the differences between Indiana and Florida and much more.
Tell us about the process of searching for and purchasing your boat:
My mom is an elementary school principal, and my dad is a sales rep for Gregg Orr Marine in Destin. Dad is also a boat captain, and mom loves fishing, so it wasn't a question of getting a boat, it was which boat.  We had another vessel before this one, but we upgrade to the Sea Chaser, and it's just my mom's dream boat.  My dad had been looking at Sea Chasers in magazines for a long time.  We knew what we wanted, and we knew how we wanted it customized.  We got a black powder coat.  We added a fish finder and a trolling motor. Having a head on board and so many other conveniences is really nice. We grew up on boats, and we had a lake house growing up. There was a lot of barefoot skiing behind our little speed boat and fishing off the dock.
Tell us about your ideal day out on the water:
Every chance we get, we are out on the water. That's where you'll find us most weekends.  If the wind is working and the weather is with us, we're on that boat. We're still debating a name for the boat. That's a big decision! But getting this boat is the best decision we've ever made.  In Florida, you have six months of summer weather instead of the two months of the year that it's summer in Indiana.  Having a boat and living here is like a really great vacation or a wonderful dream.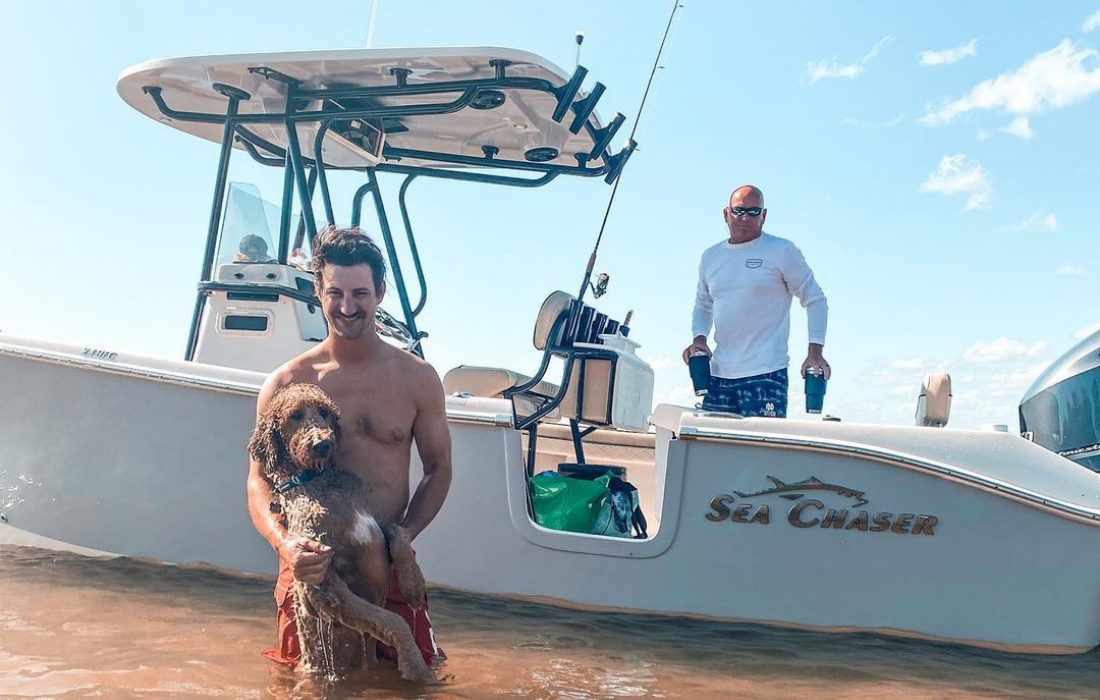 Any extraordinary memories about time spent on your boat that you'd like to share?
There's really no bad day out on the water. The Gulf can get scary very quickly and so can the bay, so my favorite days are the ones where there are minimal winds. I can enjoy the sunshine and relax.  When we're all there together with the dogs, it's just really very special. And soon, we'll be introducing our little one to life on the water, as well.
We've had the Sea Chaser a little over a year.  We did a lot of research about what we wanted.  Ordering the boat was so exciting, and waited with great anticipation for it to arrive. The boat has been a wonderful retreat for our family when so much has been altered due to COVID.  It was so nice….when they closed the beaches down last year, the boat was still an option for us to relax and enjoy some time together.
Are you in the market for a new boat, or will you stick with your current Sea Chaser?
Obviously, bigger is always better! Mom just loves this boat, especially, and the deeper she can go, the better. I'm a little more cautious.  But we're all very happy with the purchase that we made.  This is an huge upgrade from the boat we had. We love it!
We are thankful for every day that we get to be out on the water.  We are so blessed that we are able to have this opportunity to cherish all of this special time with family.  We're looking forward to introducing our son to the boat and the water. I'm looking at a little bean bag to put in the boat for his naps.  This boat just offers such a nice family getaway, and makes every weekend a new adventure.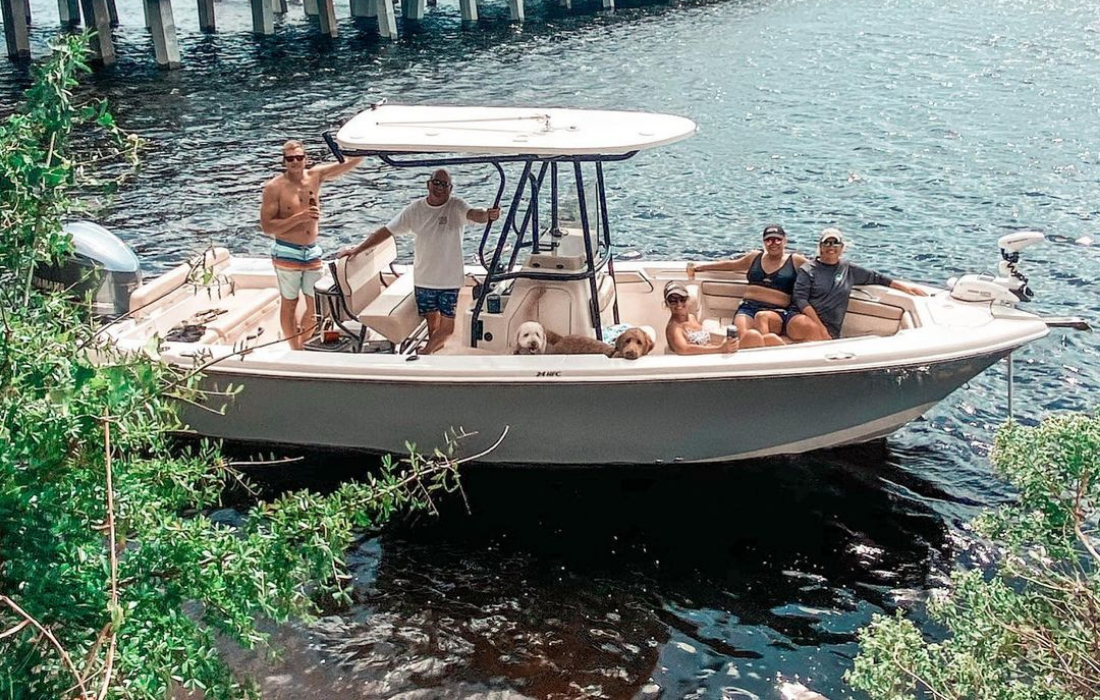 At Sea Chaser, building the best quality boats for a great price has always been our goal. Whether you're looking for a pleasure boat, fishing boat, runabout or commercial/work boat, we deliver the most in value, quality and style. Find a Sea Chaser dealer near you today or visit seachaser.com to learn more.