Lauren Rautenkranz is a busy meteorologist with First Coast News in Jacksonville, Florida. But when she's not on the air updating viewers on the latest weather news, you can find her spending quality time with her husband Ryan, her infant daughter Madilyn, and her dogs Kane and Maya.  One of Lauren's favorite ways to decompress when she's not working is to spend time on her Sea Chaser 19 Sea Skiff.
Tell us about the process of searching for and purchasing your boat:
We had not owned a boat together before this one.  Our parents had boats when we were born, but our families both got rid of their boats when we were quite young.  Of course, growing up in Florida, we always had friends that had boats. We grew up around them.
My husband and I talked for a long time about what our ideal life would look like.  This is the most amazing place to enjoy life on the water.  When we moved here, we knew it was not "if" we would get a boat but "when".  We went to a boat show in 2019 and did some looking around.  The Sea Chaser 19 Sea Skiff really stood out to us.  We loved that it wasn't a flat boat but wasn't a heavy duty offshore boat. We saw that is was perfect for us, and was just the size we wanted.
Tell us about your ideal day out on the water:
We've explored marshes, we have pulled up on sandbars and had happy hours. We take our dogs with us…they have special life jackets. We cannot even say the word "boat" at home, because they get so excited. They love it.  We've been off shore to go fishing or watch dolphins off Jacksonville Beach. All of our family vacations have centered on our boat. We've gone to Florida Everglades National Park to do some camping.  We've gone scalloping in Crystal River and Steinhatchee….that's a family tradition and the best time of the year.  This boat is perfect for all of that and more…it's just the perfect boat for us.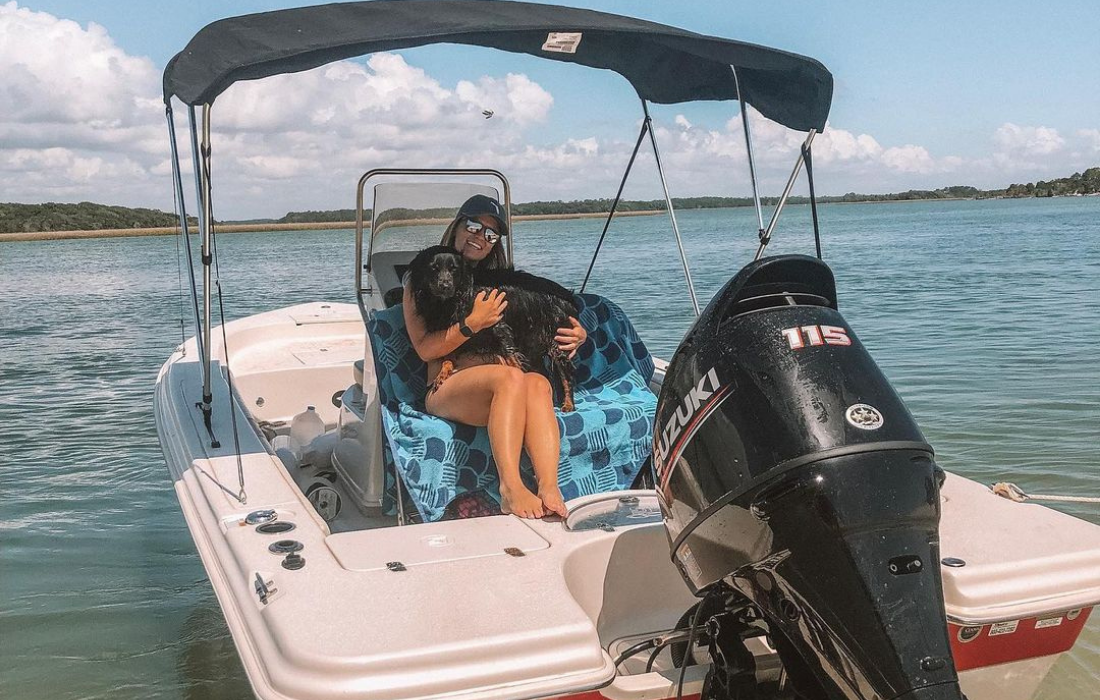 Any extraordinary memories about time spent on your boat that you'd like to share?
There are so many special memories, but there is one that stands out above the rest.  In April of 2020, I had just found out I was pregnant.  Everything was shut down because of COVID. It was a beautiful, flat day, and the beaches in Jacksonville were closed.  We packed up some peanut butter and jelly sandwiches and headed out. The water was perfectly clear. The beaches were empty.  We felt like we had the coast to ourselves. It was so amazing to be out there alone, exploring the waterways and celebrating our new, future little addition. It was a good day!
We later used the boat to share our news as part of our pregnancy announcement, too! But every time we are out of the boat, it's just the best.  There is not a time that we are on that boat that we don't have a good experience.  With this pandemic, we felt very fortunate to have our boat. With all of the stress and the working from home, it was our escape and our retreat throughout this whole thing.
Are you in the market for a new boat, or will you stick with your current Sea Skiff?
You know how people plan a family, maybe dream of how many children they will have? Well, we have a boat family in mind.  This boat gave us the itch.  We love our Sea Chaser 19 Sea Skiff, but I think we might look for a 22 or 23 foot next. We're looking at different motors.  We'd like to have something a little bigger for when our daughter is older. My husband has a whole plan!  When we bought the Sea Skiff, I was so scared. That was a very big purchase. But we did it, and I am so glad. We are hooked!
The very first time we put the Sea Skiff in the water, we both said "Ok, this is it! We will always have a boat!" We fell in love with the Sea Chaser 19 Sea Skiff because the size is very versatile.  It's a super easy boat for first time boat buyers. And it has been an integral part of so many of our family memories!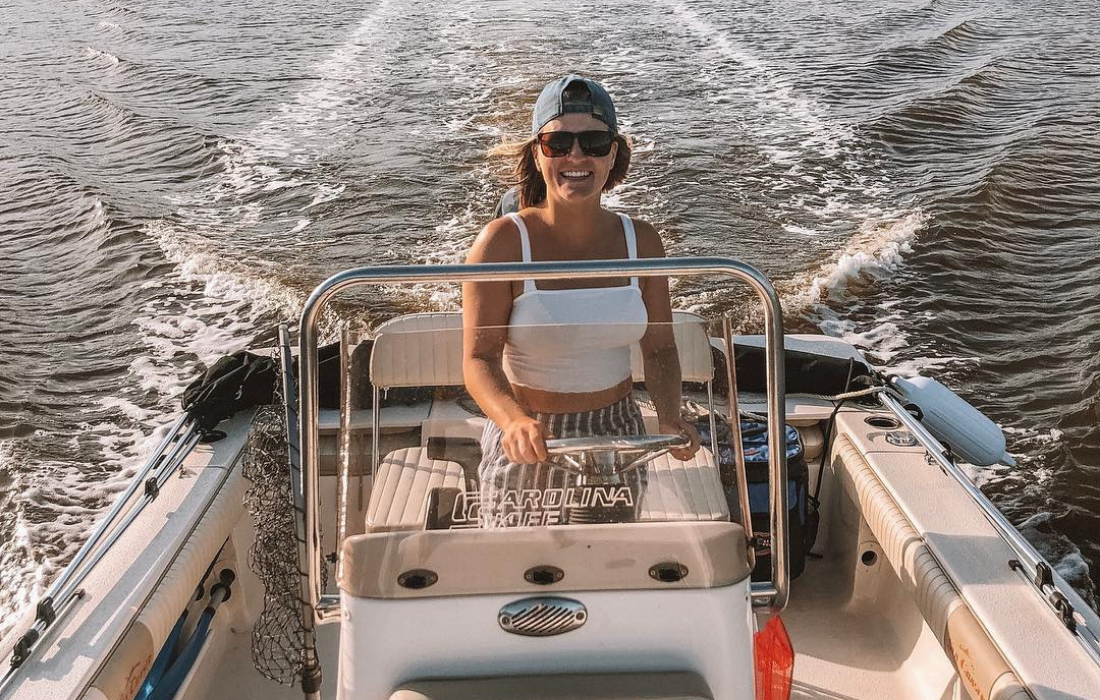 At Sea Chaser, building the best quality boats for a great price has always been our goal. Whether you're looking for a pleasure boat, fishing boat, runabout or commercial/work boat, we deliver the most in value, quality and style. Find a Sea Chaser dealer near you today or visit seachaser.com to learn more.